Happy Thursday! I have another program that I would like to share with you. This time it's in Math! I can hear the moans and groans now, even from my 4th grade daughter, haha. I can honestly say that with this program, the moans and groans ceased. What math program is this?
A+ Tutorsoft, Inc
. We utilized the
A+ Interactive Math
. (
Online Homeschool Edition
)
Before I discuss what the Online Homeschool Edition entails, I would like to talk about the A+ Tutorsoft, Inc. site first. When you enter the main site, you are greeted with a wide variety of resources and info. At the top right of the website, you can choose:
Free 1 Month (Online Homeschool)
Free Download
It is right below that section you can sign up to use A+ Tutorsoft, Inc. After signing up, a parent and student will receive a login. When a child logs into their dashboard and uses the resources, it keeps track of their records.
Below the dashboard are these tabs:
Homepage
Order Now (Online Homeschool Edition, CD Software, Books, Specials, Activate your order)
Software (CD Software, Online Homeschool Edition, etc.)
Books (Full Curriculum Books, Workbbooks, sheets, exams Pack, Table of Contents, Buy Now)
Free Stuff (Worksheets, Exams, Multimedia Lessons of the Day, etc.)
Testimonials
Brochure
Support
About Us
FAQ
Conferences
Contact
Below the A+ Tutorsoft, Inc. website tabs are flash advertisements of their products. For example, deals for Math CD software, homeschool online edition, etc. Below the flash advertisements are other deals. "
Right now you can save 50% through the end of March. Please use this code: SPOFFER50."
You can also view a CD and Online Demo and register for a free MATH placement test.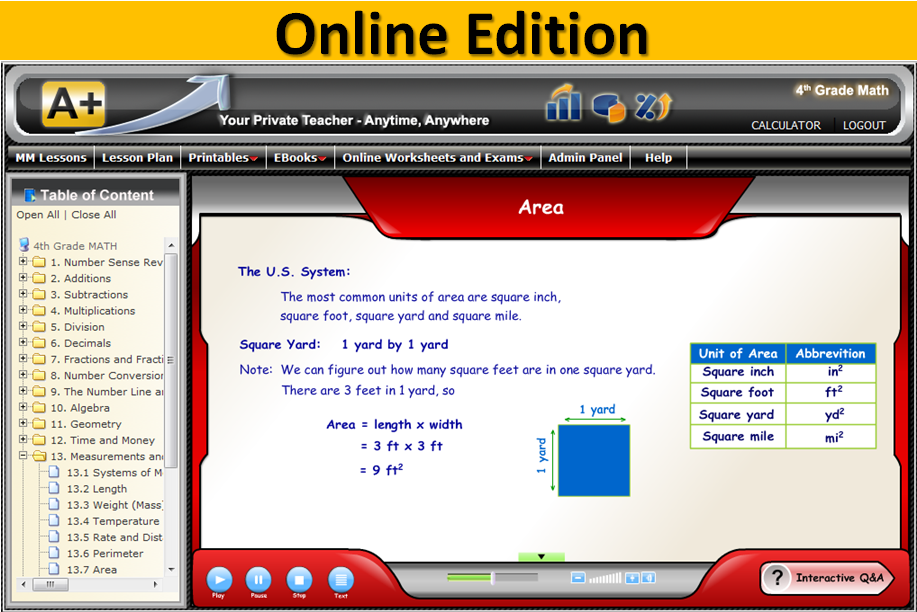 The Online Homeschool Edition is "Multi-Sensory Interactive Math Online." We are currently using the 4th grade program.
What are the student features?
Audio, Visual, and Text Lesson ("Highly animated, concise, and to the point.")
Interactive Reviews
Templates that allow you to generate worksheets for extra practice. Includes feedback and step by step instruction.
Create exams under timed conditions
Student progress reports. Allows them to track their own progress.
Printable worksheets and exams
Curriculum Book
Reference Sheets
What are the parent features?
Recommended Lesson Plans
Instant Online Grading
Parental Controls to unlock solution guides
Progress reports. Identifies strengths and weaknesses.
Math Placement Test
"Measure and track your child's performance and take
early corrective actions to improve performance"
The program is for grades 1st-6th including Pre-Alebra and Algebra 1.
How much does the Online Homeschool Edition cost? Original price is $149.99. Your current price being $124.99. This is for yearly.
Monthly: $19.99

Quarterly: $49.99
My fourth grader has honestly been anxious to use the online program. This is huge because she hates math. I am so thankful for this program and look forward to using it in the days ahead and with my younger daughters as well.
How did we use the program? Some days I would have her just sit and do the audio interactive. The next day she would go over the worksheets she learned and then take an online exam. Some days I would mix it up and have her to the printable worksheets and exams as well. For her to ask if she can go online to use the program is such a joy. I honestly wish I had something like this during my elementary years as I hated math. The fourth grade program covers:
1. Number Sense Review
2. Additions
3. Subtractions
4. Multiplications
5. Division
6. Decimals
7. Fractions and Fractions Operations
8. Number Conversions and Mixed Fractions Operations
9. The Number Line and Number Comparisons
10. Algebra
11. Geometry
12. Time and Money
13. Measurements and Conversions
14. Probability
15. Displaying Data Using Graphs
16. Word Problems and Problem Solving
Have you ever used A+ Tutorsoft, Inc. with your child? How about the Online Homeschool Edition? I would love to hear how it worked with your child. If you have never used it, would you consider it for your homeschooler?
Feel free to check out A+ Tutorsoft's products
here
. Click
here
to read more reviews by the Schoolhouse Review Crew or click the banner below.
Many Blessings!

Disclaimer: I received a free copy of this product through the Schoolhouse Review Crew in exchange for my honest review. I was not required to write a positive review nor was I compensated in any other way. All opinions I have expressed are my own or those of my family. I am disclosing this in accordance with the FTC Regulations