Is your world full of paper clutter? Even before homeschooling, paper clutter became a major issue in our home whether it was all over the fridge, scattered all over the tables, etc. It would be so easy to toss it all in the garbage if they weren't so important, right? I was so excited to be introduced to
Paperless Home Organization
by
Simplified Pantry
. This is from The Old Schoolhouse's sister site, Molly Green Magazine (
econobusters.com
.) If you struggle with paper clutter. Keep reading, Paperless Home Organization is most definitely for you.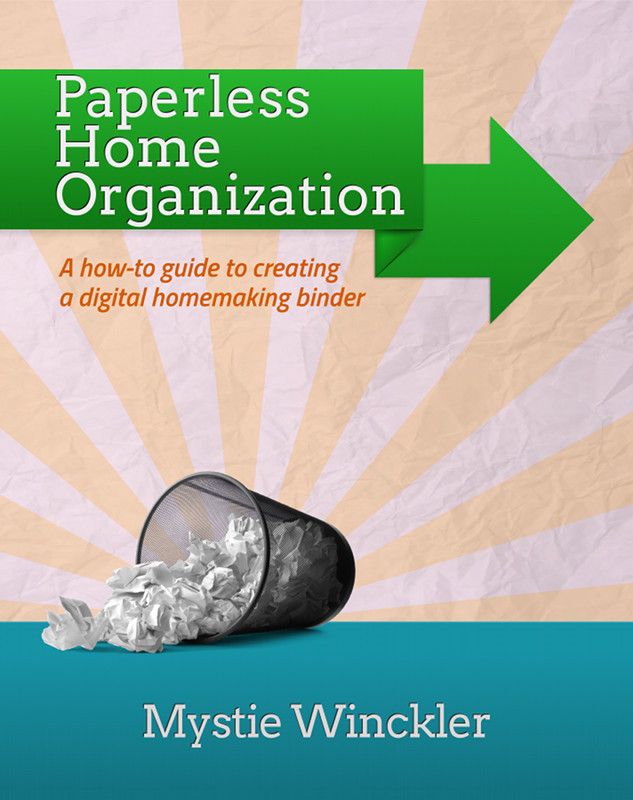 First off, what is Simplified Pantry? As busy moms, we are always searching for quick, easy, and very healthy recipes for our families, correct? Simplified Pantry was created by Mystie Winckler, a concerned mom looking for simple recipes for her family. She also took it up a notch with home organization.
Now you may be curious as to what
Paperless Home Organization
is? "Paperless" most certainly caught my attention. Author, Mystie Winckler, teaches you how to create a digital home management notebook. Awesome! Here is a few of the many things that are covered in this eBook:
Benefits of Home Management Binder
Benefits of Going Paperless
Keeping it Simple
Basic GTD Concepts & Terms
Initial Set-Up Instructions
Using Gmail
Principals for Your Email Inbox
Gmail Tips and Tricks
Using Google Calendar
Principals for your Calendar
Using Remember the Milk
Principals for Remember the Milk
and much more.
If you use Gmail often, you are on the right track to utilizing Paperless Home Organization. It basically will take a step at a time to build your system, but it's definitely worth it. I am going to continue working with mine to achieve what is needed. I already utilize Gmail, Google Calendar, etc., so it wasn't difficult on my part to get started on my digital home management notebook.
You will also want to set up an account with
Remember the Milk
and
Evernote
. I honestly have never heard of these two sites and was excited to move forward to give it a shot. Sign-ups are free and easy to use and help you manage your tasks when needed. They are also great if you run a home business as well and need to keep track of that on top of your household duties and children's extra-curricular activities. The other great thing about Evernote is you can use it for blogging as well. This is a definite plus for me as blogging is a part of my home business. Can't wait to use this in this particular area.
There is so much to all of this, it can almost be overwhelming at first, but once you get the hang of it all and how you would like to apply it to your schedules, it's heaven!
With Paperless Home Organization you can also say goodbye to all the paper clutter of sticky notes around the house. Those can also become overwhelming and become easily lost in the clutter causing you to miss an important meeting, event, etc. Wouldn't you agree?
Another great thing about Paperless Home Organization is that it's tune with the modern times. Who needs all of this paper anyways? With all of these tools made available to us, it should be quite simple to manage everything all in one place; online! After all, moms these days are avid users of the Internet and computer. It's so easy to just go on and keep everything organized for our homeschool and even our business.
I most definitely would recommend this eBook to every mom looking to go paperless in their schedules. It is an answer to prayers, honestly. I don't know what I would do without it. I plan on revamping my notebook slightly in the days ahead as to become more organized now that I understand how this system works. It will be greatly beneficial when we start a new homeschooling year this coming fall.
The Paperless Home Organization eBook is currently only $3.99! Awesome price for something that will change your life in this department. Along with this eBook I received
Simplified Dinners
and
Simplified Dinners Gluten Free/Dairy Free
. Simplified Dinners and Simplified Dinners Gluten Free/Dairy Free are currently $12.99 each. These are also eBooks.
A big thank you to Mystie for creating something such as this for all of us busy moms! These are great tools I plan on sharing with fellow homeschoolers, etc. So excited to use these to better myself in the recipe department as well!
What do you think? Do you think you could utilize something like Paperless Home Organization? Want to read more reviews? Check them out at the
Schoolhouse Review Crew.
SPECIAL: Enter TOS2013 at checkout from May 20 to June 3, 2013 to receive a 30% discount from any or all of Mystie's ebooks!